Get Things Done by Partnering With Your Virtual Assistant
Being an entrepreneur and small business owner is hard. In the past several years, millions of people have joined the small business ownership world and realized what you know already: it's challenging being an entrepreneur, especially in a volatile global environment.
When being an entrepreneur gets difficult, smart leaders build partnerships founded on trust and collaboration to lean on. These partnerships are built on a mutual desire to succeed and often include key advisors, accountants, business coaches, lawyers, consultants, partners, and more. If you haven't already, add a virtual assistant to your list of trusted partners.
As the head of client success here at Trusty Oak, I get the privilege of talking to dozens of clients regularly, many of whom are asking for advice or ideas. I've noticed a trend: the clients getting the most done are intentionally partnering with their virtual assistant for mutual growth and development. Here's what I mean.
Virtual Assistants: Your Partner in Growth
Many of our clients come to me during times of reevaluation when they're pivoting for all sorts of reasons. Maybe they're rebranding, redesigning their website and offerings, or dealing with an unexpected slowdown in new business. Others are transitioning to a new focus or product or undertaking a complete rework of their processes and structure.
All of these developments or changes within a business are extremely stressful for a business owner. Because of this, oftentimes, their focus is not where they feel like they can devote the attention or time needed to communicate or collaborate with their VA. These clients often say to me, "I love my VA. How can I keep providing them with meaningful tasks during this transition time?"
My answer is always, always, talk to your virtual assistant. This advice sometimes comes as a surprise to clients, mainly because they haven't started to see their virtual assistant as a partner yet. I tell them to schedule a call and be as transparent as they're comfortable being. Instead of only delegating to and talking with your virtual assistant when you know exactly what to ask them to do, use them as a sounding board. Your virtual assistant can be one of your trusted business partners you turn to during times of transition rather than someone you can only work with when you have all your ducks in a row.
This is particularly true because your virtual assistant is an entrepreneur just like you. While their business looks different than yours, they are a freelance small business owner, building their client base and learning valuable lessons along the way. If you've worked with your virtual assistant for a while and developed a relationship, they also know you. They understand your brand, your voice, and your pain points.
Related: How to Hire a Virtual Assistant: Your Guide to Outsourcing and Delegating Virtually
One of our key core values here at Trusty Oak is collaboration always wins. So talk to your virtual assistant, discuss what you're thinking, brainstorm ideas, voice your concerns, and ask for input and ideas. Believe me, it works – and our most successful clients do it often.
The Partnership Model
It's vital to create a sense of partnership with your virtual assistant. We believe in this partnership so much here at Trusty Oak that we've built our model around it. We facilitate and cultivate partnerships between business owners and virtual assistants. That's our main job, particularly in the client success department. We match virtual assistants and entrepreneurs with aligned goals to find mutual success.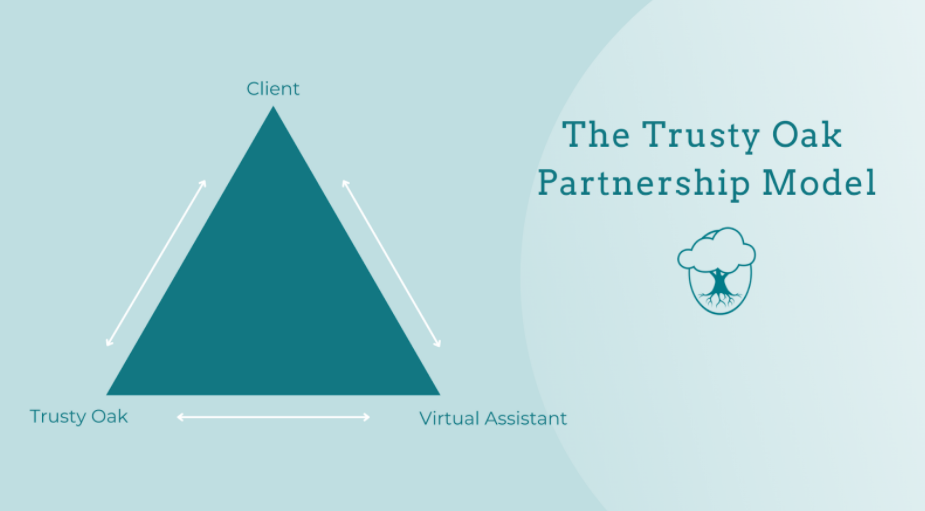 Our model creates a three-way partnership. Trusty Oak works hard to develop and strengthen relationships with both the virtual assistant and the client, allowing for a sense of partnership to grow. When clients work with their virtual assistant in that spirit of partnership, they're far more likely to find success. Virtual assistants are not employees, and they're not only assistants either: they're strategic partners who can provide you with valuable insight and guidance. They're separate from your business in a structural and operational sense, but their success is tied up in yours. They're invested in your wins in a way that allows you to lean on them as a partner.
Why Partnering Leads to More Productivity
1. Virtual Assistants Are Entrepreneurs Too
When I ask VAs what they value most about freelancing through Trusty Oak, the single most frequent answer is the sense of pride and purpose they feel working with their clients. They highly value being able to have a measurable, quantifiable impact on the success of a client's business. Virtual assistants are entrepreneurs just like our clients, and they find purpose in seeing businesses flourish. When you're working with a virtual assistant, you'll find much more value in a relationship that leans on this aspect of your VA's background.
2. Virtual Assistants Give Unique Perspective
Whether you're growing, pivoting, transitioning, or making crucial decisions in your business, being a business owner can be stressful. You're often taking a leap of faith and pushing yourself in ways you never thought possible. Your virtual assistant can offer more than just taking daily tasks off your plate: they can be a sounding board and a wealth of knowledge. They can give you an outside perspective on your business and a holistic point of view. Like I've mentioned, they have a vested interest in seeing your company succeed, and it's one of their greatest joys to be a part of your entrepreneurial journey.
3. Partnering is Pro-Level Delegation
One of the common things we hear from clients is that they signed up with Trusty Oak and decided to move forward with working with a virtual assistant because they needed help or support in a particular area. Maybe it was administrative functions, managing a CRM, sorting out an overflowing inbox, scheduling appointments, or some light bookkeeping. But what I've seen is clients who "level up" after delegating these first smaller tasks by embracing a sense of partnership. If you're willing to collaborate, communicate with transparency, and commit to partnering, you'll gain so much more from your delegation to your virtual assistant.
It sounds easy, but we know it's not. When you're talking about your "baby" – your business, your passion – delegating things to an outsider with this level of trust and partnership is daunting. But it can be the most important steps you'll take to not only grow your company but also grow as a leader.
Partner With a Virtual Assistant to Get More Done
Your relationship with your virtual assistant is a partnership. It is so much more than just having an assistant who is checking your email. Yes, virtual assistants can do those small, repeatable tasks for you. But they can do so much more if you choose: they can be a key contributor to your growth.
---
Comments:
---