Find Your Ideal Customers Using Facebook Audiences
Have you created customer personas to identify your target customers yet? Are you trying to connect with your ideal customers on Facebook?

Roll up your sleeves. This is going to take a little investigation on your part. The efforts will all be worth it when you finally feel clear about who your ideal customers are and how to reach them with ads using Facebook Audiences.
A customer persona or buyer persona is used to describe the semi-fictional character who represents your ideal customer and ideal prospect. We create these characters based on information about existing customers as well as external information gathered from places such as Facebook Audiences. Your business's success in marketing, sales, product development, customer loyalty, and customer service depend heavily on how well you know your ideal customers.
This article offers the key steps for creating a Custom Facebook Audience, leading you towards identifying and understanding your ideal customers better.
What Can You Learn from Facebook Audiences?
Step 1: Know your audience. Who are these people? What do they like to do?
Step 2: Speak their language. What words and phrases do they use to talk about their problems?
Step 3: Make your offer available to them in the right place at the right time. Where do they hang out?
These core concepts can make or break your marketing and sales. The first step of knowing your audience is where Facebook's Audience Insights tool comes in very handy.
"Facebook Audience Insights gives you aggregate information about three groups of people—people connected to your Page, people in your Custom Audience and people on Facebook—so you can create content that resonates and easily find more people like the ones in your current audience." (Facebook)
You can learn much about your ideal customers using Facebook Audience Insights. Get clarity on their basic demographic information, such as age, gender, location, income, marital status. Learn more about their purchase behavior and related interests. One of the most valuable pieces of information I've found is the other Facebook pages my audience follows and their "lifestyle" description.
Creating a Custom Facebook Audience
Whether you have run a Facebook ad before or not does not matter. The first step is to go to the Audience Insights page, which is part of Facebook ads manager. When you arrive on the page, you'll immediately see a pop-up box like the image below. Note: You may not see an option for Custom Audience.
If your Facebook page has at least 1,000 fans, then click on People connected to your Page. Otherwise, start with Everyone on Facebook. It's time to have some fun learning about your tribe of ideal customers.
In this moment, you have access to anonymous data about every user on Facebook. That is going to be WAY too much information to be helpful, so you need to filter it. All of the filters are along the left side of the screen under Create Audience.
Start with the basics: Location, Gender, and Age. Based on what you already know about your ideal customers, fill out at the form. PRO TIP: If you feel completely lost about this information, then go to your Facebook page's Insights tab to get a starting place. As an example, I began filtering my audience to only look at the United States, both men and women, between the ages of 30 and 55.
Since there are a ton of options in the interest and advanced categories, you may feel overwhelmed. Before starting this step, you may want to scribble down on a piece of paper a few ideas about your audience – income, job, marital status, and interests they have related to your business. This will make it easier to add filters.
You can search through the categories by clicking on the arrows next to each category. Or you can begin typing into the box that reads interest. Start by typing interests into the box to see what interest categories are suggested. In the example below, I began typing the word writing. The suggested categories included Writing, Creative Writing, Writing implement, Screenwriting, and Food writing. This is a collection of jobs, the different interest categories and behaviors.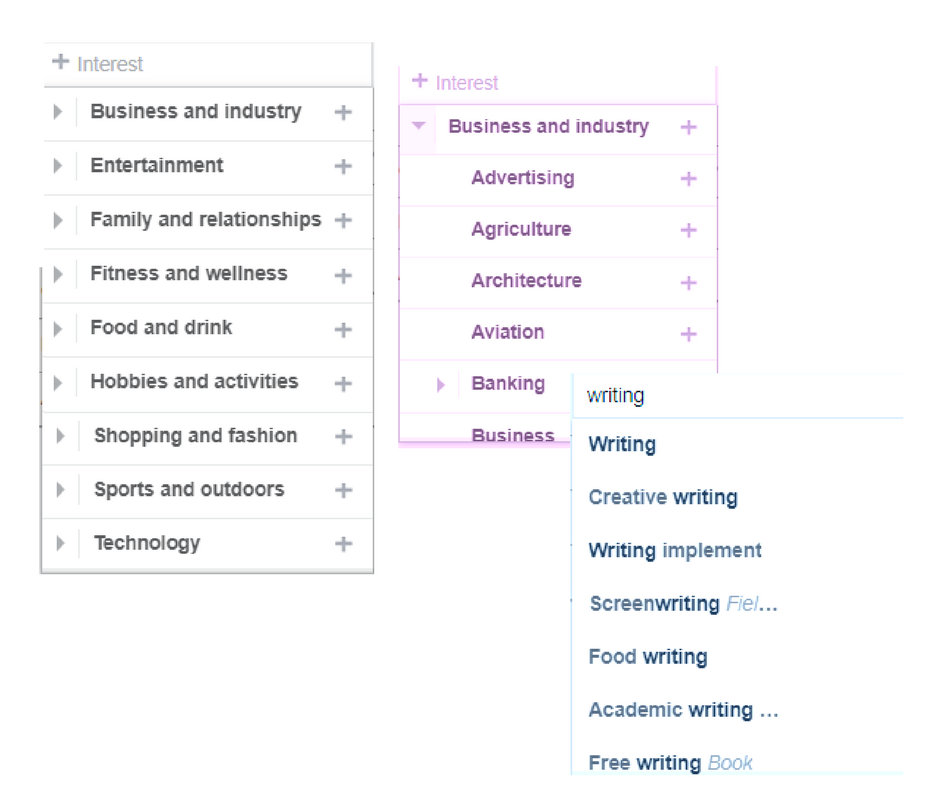 With your many filters in place, it's time to read through the results. Take a look at the charts on the page. The top of the page has 6 tabs: Demographics, Page Likes, Location, Activity, Household, and Purchase. Go through each tab to learn more about your ideal customers. Remember to click save at the top of the page. That will save this Facebook Audience so you can create ads for these people later.
---
Comments:
---