How Smart Leaders Onboard (and Retain) Virtual Assistants
If you're looking to onboard with a new virtual assistant, you're likely also looking for ways to make sure you do it right the first time. Maybe you've already done it "wrong" before and had a disappointing experience with a freelancer, and you're hoping to improve on that experience this time around. Maybe this time, you're hoping to develop a long-lasting relationship that won't leave you searching for a new assistant in a few months and feeling like you've wasted time and money.
Whatever the case, the good news for you is that there are ways to set yourself up for success when you're beginning a relationship with a freelance virtual assistant. Unfortunately, many entrepreneurs and small business owners hire a virtual assistant with no idea how to make the relationship successful. Many start with misconceptions about working with a virtual assistant or unrealistic expectations that can doom them from the beginning.
Related: Hiring a Freelancer: More Challenging Than It Sounds
In this article, I'll outline what the most successful business leaders do to craft a meaningful relationship with their virtual assistant and get the most out of their contract–and it all starts in the onboarding phase. These entrepreneurs combine a commitment to communication with leadership skills, patience, honesty, and effort to build long-lasting working relationships with their virtual assistants.
Start With the Right Mindset
Before you even begin working with a virtual assistant, you should think about your mindset and expectations. Often, a "failed" match between a virtual assistant and an entrepreneur isn't due to personality, skillset, or background, but rather a combination of breakdowns in communication and misaligned expectations.
Starting with the right mindset can change everything, particularly by committing to two things: partnership and communication.
Commit to Partnering
When you start with a virtual assistant or freelancer, do not go in with a "set it and forget it" mindset. You already know this, but let me state it anyway: your virtual assistant is not a vending machine or a computer. No formula guarantees your input (i.e., an email delegating a task) will give you your exact desired output the first time (i.e., the task completed to your exact imagined specifications). Instead, you'll need to commit to developing a partnership with your virtual assistant that will lead to faster, more efficient delegation over time.
As Stephen R. Covey put it, "In a high-trust relationship, you can say the wrong thing, and people will still get your meaning. In a low-trust relationship, you can be very measured, even precise, and they'll still misinterpret you."
That's why it's crucial to commit to partnering with your virtual assistant. Partnering means you understand you're working with another human being, and you will be an equal part of the workload of getting your VA up to speed. You know partnering takes effort and time, and you're willing to put in that time and effort.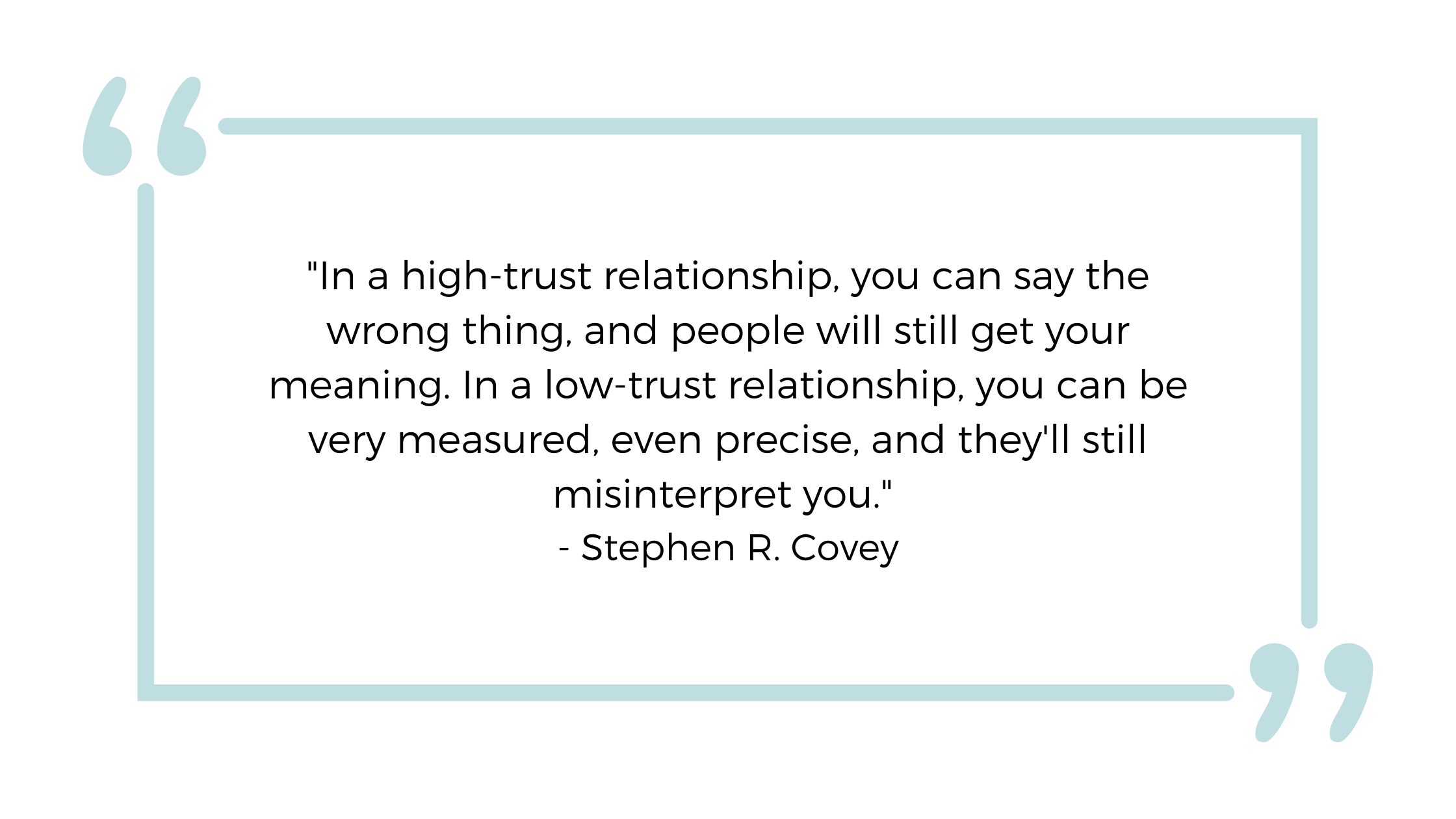 The most successful leaders understand that there is no vending machine approach with humans and are ready to put in the sweat equity during onboarding to reap the benefits down the road.
Commit to Communicating
When you're onboarding with a virtual assistant, you should be erring on the side of over-communicating. At Trusty Oak, we even walk clients through a Communicate, Collaborate, and Delegate agreement because we believe this commitment is essential.
Committing to communicating with your virtual assistant means you don't hold back with your feedback–both positive and negative. It means you won't skip weekly meetings or take three days to respond to emails. It means, yes, you'll need to add to your already packed schedule by spending time communicating with your VA, but it also means you'll build a relationship with honesty and transparency at its core–a must in any effective delegation relationship.
The most successful leaders find creative ways to build feedback and communication into their day-to-day interactions with their virtual assistant throughout the onboarding phase for this very reason. Without communication, there is no way for your virtual assistant to learn your preferences, needs, and goals. So, when in doubt, pick up the phone, schedule a Zoom meeting, or write an email. I highly recommend lots of synchronous communication early on in your relationship with a new VA to avoid the tone pitfalls and constraints of email or other text-based communication.
Related: Tools for Remote Hiring and Onboarding
Share Your Vision
The next thing seasoned leaders do to their advantage when onboarding with a new virtual assistant is sharing their vision. Imagine how you'd like to onboard a new full-time employee who will be completing crucial tasks for your organization: you'd likely spend ample time with them, talking about your business, the company's history, the challenges you're facing today, and your strategies for the future. Similar vision-sharing should be happening with your new virtual assistant, even if they won't be full-time or an employee.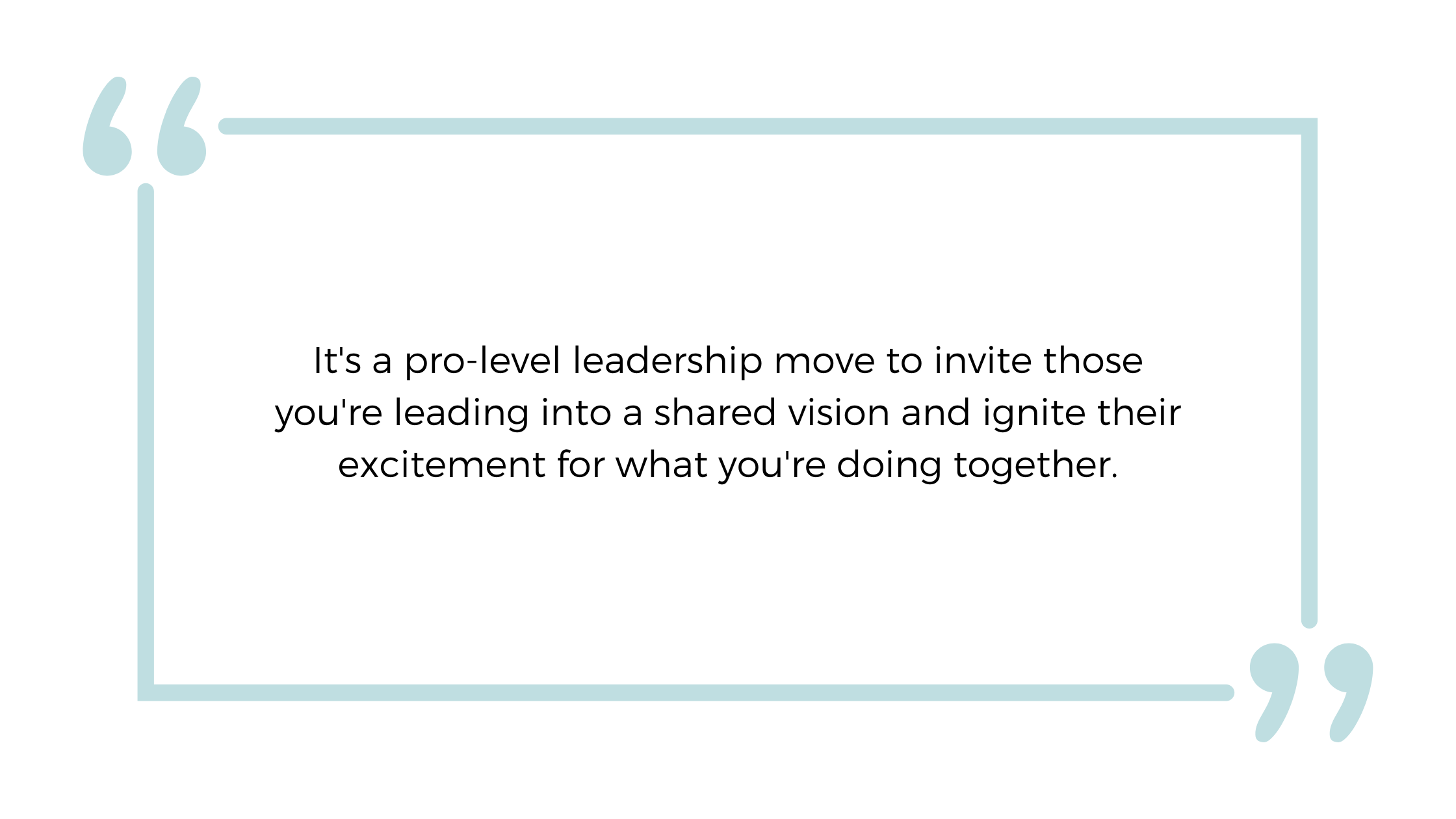 Give your virtual assistant time to learn the ins and outs of your business, from company culture to vision, goals, and strategies. Find ways to give them insight into your why. For example, invite them to company-wide meetings you know will give them a taste of what makes your business unique or share communication plans and past business strategy documents.
It's a pro-level leadership move to invite those you're leading into a shared vision and ignite their excitement for what you're doing together. Too many entrepreneurs skip this step when onboarding with a new virtual assistant, wanting to jump too quickly into checking off tasks. Checking off tasks is terrific and vital, but the most effective way to build a winning relationship with your VA is to invite them to be a part of your organization. This starts with sharing your company's vision and bringing them into the bigger purpose and picture behind what they're doing for you.
Challenge and Empower Your Virtual Assistant
When onboarding with a virtual assistant, it's a good idea to start with small tasks and work your way up to more complex projects. Build trust slowly and methodically by starting with low-complexity tasks and lower-stakes projects. But don't stay there–smart leaders work hard to empower and excite their assistants with challenging projects when the time is right.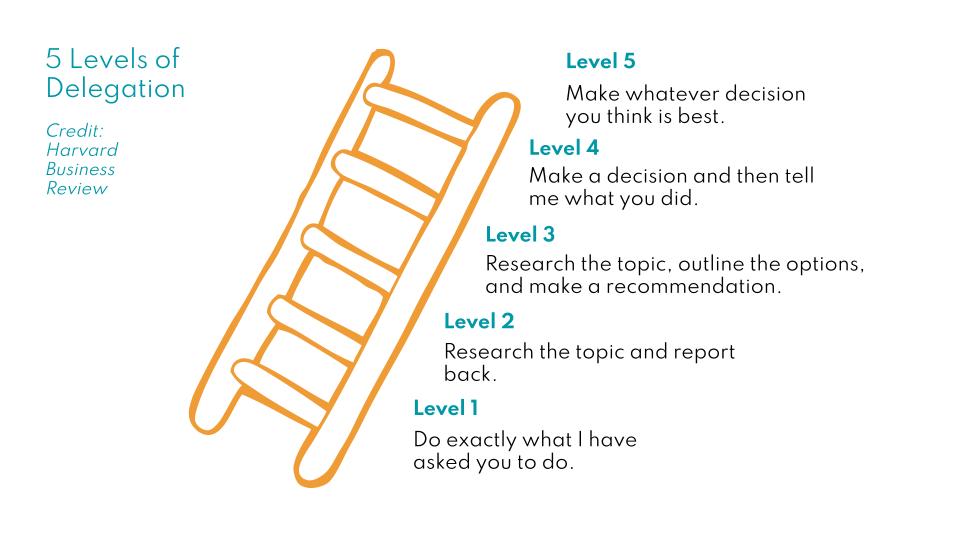 It's imperative to challenge and empower your virtual assistant as they earn your trust. One of the ways you can do this is by understanding, using, and communicating with the five levels of delegation. You will likely start early on at a level one or two on the five levels, but your goal should be to develop a trusting relationship that will allow you and your VA to work together on one of the higher levels as time goes on.
Level 1: Do as I say. This means to do exactly what I have asked you to do. Don't deviate from my instructions. I have already researched the options and determined what I want you to do.
Level 2: Research and report. This means to research the topic, gather information, and report what you discover. We will discuss it, and then I will make the decision and tell you what I want you to do.
Level 3: Research and recommend. This means to research the topic, outline the options, and bring your best recommendation. Give me the pros and cons of each option, then tell me what you think we should do. If I agree with your decision, I will authorize you to move forward.
Level 4: Decide and inform. This means to make a decision and then tell me what you did. I trust you to do the research, make the best decision you can, and then keep me in the loop. I don't want to be surprised by someone else.
Level 5: Act independently. This means to make whatever decision you think is best. No need to report back. I trust you completely. I know you will follow through. You have my full support.
Adapted from Harvard Business Review
If your VA understands what level of delegation you're asking for with a task, they'll be able to rise to the occasion quicker. When the delegation-level is clear, they can avoid overstepping your request or begin taking the initiative and feel empowered by your direction.
Show Appreciation
Just as competent leaders aren't afraid to give honest, kind feedback, they're also not hesitant to praise and show appreciation when it's due. There are few words more powerful in a business relationship than "thank you," and sadly, they're far too rarely said.
Appreciation can have a profound impact on your relationship with your virtual assistant. Remember, you're looking for a solid onboarding experience that will pay off in a reliable long-term working relationship with your virtual assistant. Appreciation can help create a strong foundation for this partnership and reinforce your preferences, needs, goals, and desires. While negative feedback is also necessary, positive feedback can be even more memorable.
As the saying goes, don't water weeds by only giving your attention to things done incorrectly or mistakes made. Instead, make a concerted effort to also show appreciation and good will for a job well done.
Have Patience
Finally, smart leaders exercise incredible patience when onboarding a virtual assistant. It's tempting to want to jump in quickly and start tackling that long to-do list you've waited to delegate. But the reality is you'll move faster if you practice patience early on. Again, you're building a partnership with your freelancer, and there are some things in partnerships you cannot rush. Have patience and work diligently toward your goals with your VA, knowing your leadership will make your experience much better in the long term.
It's true, onboarding and retaining a virtual assistant will take effort on your part, and maybe even growth as a leader and delegator. But in the end, you'll benefit from your hard work and involvement by building an effective working relationship with your virtual assistant, and that is productivity gold.
If you're looking for help and guidance for working with a virtual assistant, we've got you covered. 
---
Comments:
---