How Virtual Assistants Increase Accessibility for Disabled Entrepreneurs
Let's start off with one thing in mind: disabled people are uniquely poised to lead because of the difficulties they already face. They make great and dedicated entrepreneurs. This doesn't mean they still don't need some help (we all do, at some point). Of course, the level of help needed depends entirely on the size of the company and the specifics of what they need.

How a Virtual Assistant Can Help Disabled Entrepreneurs
This is where Trusty Oak virtual assistants come into play. Not only are we compassionate, but we honestly care. I know I can speak for all of my fellow VAs when I say that we honestly care about your businesses. We care if we're providing high quality, excellent service and actually helping, too – but we care about your businesses.
Personalized Solutions
Best part yet – we provide personalized help to you. Have your marketing figured out? Great! We can just help when you need it. With the broad network we have (upwards of 30 VAs who have experience in everything from accounting to the Zapier plugin for your WordPress site), there is always someone who can help recommend the best procedures, processes, and software to help make your life easier. We build a personal relationship with each of our clients. This allows us to be compassionate and help in whatever way needed.
This personal relationship we build also allows personalized help to each client. If a client who is deaf needs help with taking notes from a Zoom call, we can do that. A client who suffers from anxiety may just want some organizational help and checking tasks off their list. In the end, though, each client gets the help they need.
What Our Disabled Clients Say About Us
One of the clients I support is Diego Mariscal. He is the founder and Chief Disabled Officer of 2Gether-International. He started with Trusty Oak in January 2020 and runs an accelerator program specifically designed to help disabled entrepreneurs get their business ideas up and running in the DC area. Diego has physical and invisible disabilities.
Anastasia: Why did you choose to get a VA?
Diego: VAs are cheaper than in-office personnel. Amber understood the entrepreneurship route since she was also an entrepreneur, which was important to me. Having the team of people behind my VA was also super attractive. Having someone that understands all the pieces of my startup and can help with the administrative needs. Every VA has different skill sets – it's less about "what can the VA do for me" and more about "what can we accomplish together."
Related: Are Virtual Assistants More Affordable Than Traditional Employees?
Since I took on being Diego's dedicated VA in February, we have accomplished so many things together. For example, we started a Facebook group for a weekly speaker's series that focuses on the expertise someone has to offer in business. More importantly, though, are the things he's helped me learn. I've gotten an insider's view into the world of disabled entrepreneurship: the challenges, the successes, the wonderful, and the ugly. My experiences with him have allowed me to look at my world in a new way that I would have never otherwise known about.
This a screencapture of a Disability Startup Network zoom meeting. There are 10 people present: Diego, Anastasia, Amber Grey (CEO of Trusty Oak), Jonathan, Eric, Gabriel, Chioma, Yufanyi, Shukrat, and Moe. This talk was when Amber came to speak to the group about the differences between having employees and having independent contractors.
Another one of my clients, Chioma Oruh, is the founder of Chi Bornfree and Mothering Hands. She just started with Trusty Oak in April 2020. Chioma has invisible disabilities.
Ana: What made you choose to get a VA?
Chioma: I had decided in November 2019 to dedicate my time to growing my business ideas after a few years of working at an education law firm. It was a bit of a scary decision because I had never run a business before but I knew it was impossible to continue to sustain the long hours at the firm as a non-attorney advocate and achieve my goals, luckily I was able to quickly get a business sense – especially when I got accepted in the Disability Startup Accelerator program. From January 2020, I knew I had made the right decision because things quickly began to fall into place and people that wanted to do business with me from knowing me as an advocate were able to join in this transition, so I'm grateful for all the opportunities. Yet, with this growth also meant more responsibilities and because I do suffer from clinical depression and anxiety, I started to feel overwhelmed with having this new transition plus the new skill of juggling my own projects. It was God-sent to have Diego as a business mentor and watching as he drew on support from having a virtual assistant and then bringing Amber to present on Trusty Oak at the Disability Start Up network, it was a no brainer and another kismet opportunity to feel supported in an otherwise lonely adventure of being an entrepreneur.
A: Did you ever think about getting a VA before?
C: Nope. I never knew the concept even existed prior to hearing Diego talk about it and then have Amber explain how it works. What a great concept!
A: What are you hoping I can help you accomplish?
C: Oh the sky's the limit. First, having you as my amazing VA gives me the opportunity to learn so much about how to run a startup business and finding technology solutions to modern enterprise problems. It definitely helps my anxiety to know that I have a trusty support system (no pun intended) to help bring to life ideas that would take me twice as long to figure out on my own. It's also nice to have someone who has confidence in their talents and is 100% on my team, rooting for my success because we both have stake in the success of my company (soon to be companies). And, lastly, it's also great optics to have a team and it impresses my clients and network, giving me a professional edge over other momprenuers – who I look forward to sharing this secret weapon of having a virtual assistant to help their businesses grow. So many professional moms could use this service that I look forward to making it part of my brand to refer them to Trusty Oak. It is a sophisticated form of self-care to have a virtual assistant, and that's the message that so many advocates like myself need to hear to make the necessary investment so that scaling is more feasible and tangible. Thanks for all that you do and I look forward to a long lasting relationship with you and the rest of the Trusty Oak team!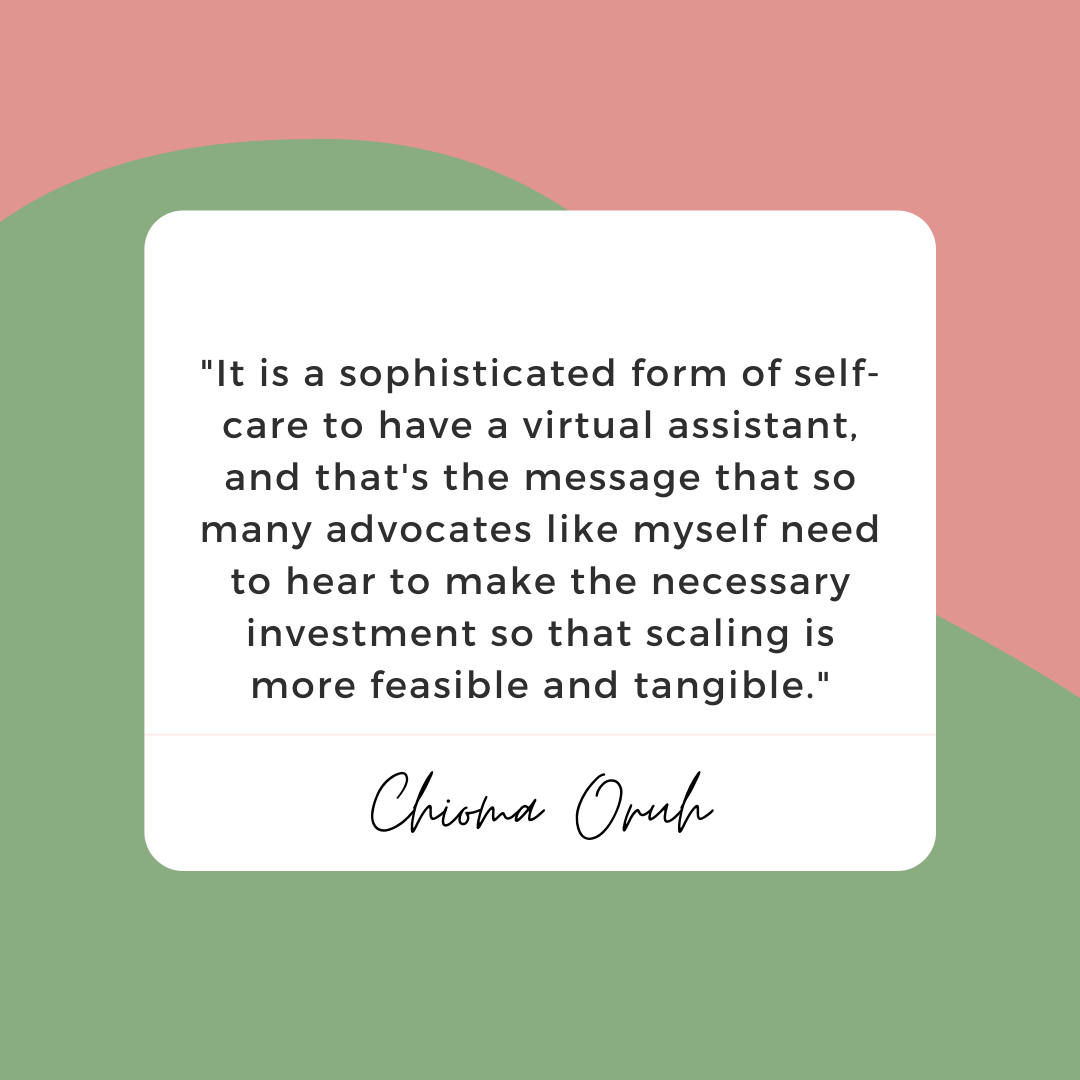 I've been fortunate enough to have a unique look at Chioma's growth since she was in Diego's Accelerator program. In the three months she was in Diego's program she has focused her Mothering Hands business in a way that will allow her to provide amazing services to the parents she wants to help. She has also allowed Chi Bornfree to grow into this amazing superpower of a company that is poised to, legitimately, take over the world.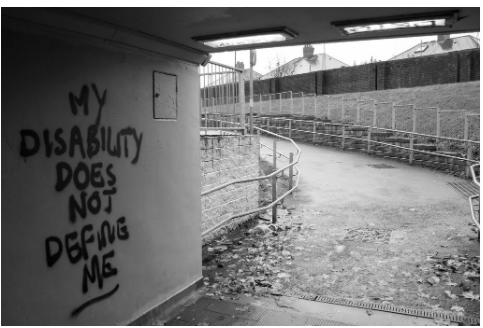 Like I mentioned before, Trusty Oak virtual assistants are dedicated to helping our disabled clients just as much as we are our abled clients. This is because we care, we're compassionate, and we offer highly personalized help to our clients. We have a broad network of people to rely on and if we don't have an answer, we have someone on our team who absolutely does. Our personalized help allows us to adapt and help in whatever way you need. No more having to adapt yourself to fit the world around you, let us help you adapt your world for you.
---
Comments:
---