I am absolutely beside myself and happy to share that I was named Austin Business Woman of the Year 2021! I am so grateful to all of you that nominated and voted, and this is definitely one of the highlights of my entrepreneurial experience. 
To accept the award, I attended the Austin Business Woman Award Gala on May 25, 2021, along with my wife, Emily Rhudy, our Vice President of Operations, Emily Fisk, my friends Brennen Bliss of PixelCutLabs and Thomas Gherling, and my niece and Trusty Oak Personal Assistant, Marissa Gonzales, at the beautiful Abel's on the Lake in Austin, TX.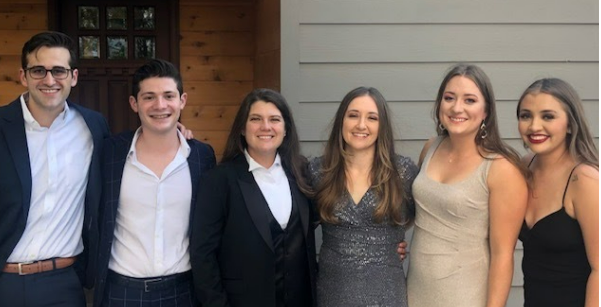 The gala was an incredible event. Before the awards were presented, there was a raffle by the event sponsors as well as a fashion show by haute couture brand Tastalitsi and their head designer Tatyana Morris in collaboration with local female entrepreneurs. It was a great time to network and chat with attendees, such as a client of ours, Felicia Reed of Felicia Reed Photography–it was great to be around so many inspiring people doing big things.
Thank you to the editor-in-chief of Austin Business Woman, Olga Adler, for creating such a wonderful night for the businesswomen of Austin. I am more motivated than ever to keep working and building our special community of freelancers and business owners.
Finally, thank you to my team for being amazing, and I just want you to know that this is for all of us. You all make it worth the hustle, and I am excited to keep growing with you at Trusty Oak!
Check out more Austin Business Woman Award Gala Photos here.